Hungary by Atlatszo – Hungarian government spent €40 million on anti-Soros propaganda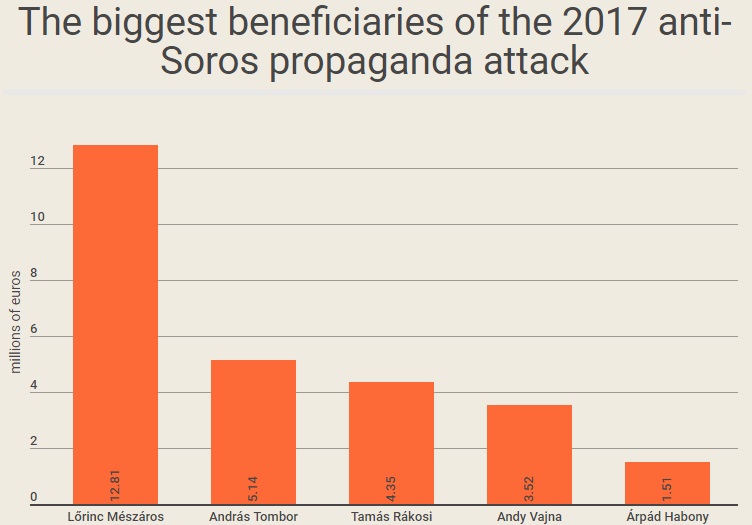 This is what Atlatszo.hu wrote this week:
Hungarian government spent €40 million on anti-Soros propaganda in 2017
The Hungarian government spent more than 40 million euros last year on advertising its two 'national consultations' and communicating the 'results' of those. Nearly third of that money flowed to Lőrinc Mészáros, a close friend of PM Viktor Orbán.
Indebtedness of national oligarchs risk banking system, experts say
We estimated how much money banks loaned to the economic powerhouses fuelled by taxpayer money and asked experts to help us make sense of the numbers. All but one of the them said that this can lead to serious troubles in the Hungarian economy.
We also read these
NPR: Hungary Reduces Number Of Asylum-Seekers It Will Admit To 2 Per Day
Critics of Hungarian refugee policy say what the government of Prime Minister Viktor Orban and his ruling Fidesz Party is trying to do is boost approval ratings before parliamentary elections on April 8.
Guardian: Can Europe's new xenophobes reshape the continent?
"Germany, by comparison, is a young country," Mária Schmidt, director of the House of Terror museum in Budapest adds, raising her voice. "I don't like being lectured by people who couldn't even set up a nation state before 1871."
Bloomberg: Statue of US Lawmaker Who Survived Holocaust Is Unveiled in Hungary
A statue of Hungarian-born U.S. Rep. Tom Lantos, the only Holocaust survivor ever to serve in the U.S. Congress, was unveiled Thursday in Budapest as those attending praised the man known for his advocacy of democracy and human rights around the world.
Reuters: Hungary says could quit UN talks on migration pact
Hungary could quit talks on a United Nations pact on migration because its pro-migration tone threatened Hungary's security interests, the foreign minister said on Thursday.

Euronews: Austria's Kurz backs Hungary's Orban against EU migrant quotas
Austrian Chancellor Sebastian Kurz met with Viktor Orban to discuss the closure of the Balkan migration route and the security of the EU's borders. Kurz sided with eastern European states in saying Brussels should stop pushing countries to take quotas of asylum seekers.
[sharedcontent slug="hirdetes-english"]