Government propaganda newspaper distributed at renowned Budapest university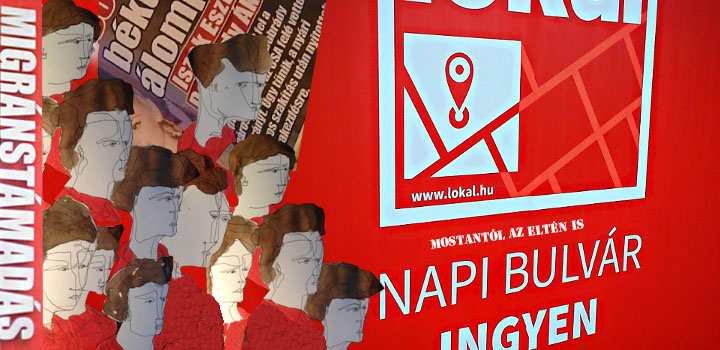 Students can find the free tabloid newspaper Lokál at more and more buildings of Eötvös Loránd University, one of the oldest and most renowned universities in Hungary. Lokál was launched in 2015 as a weekly by Modern Media Group (MMG), a company owned by Árpád Habony and Tibor Győri. Habony is the enigmatic spin doctor of the government and Győri is a former advisor to PM Viktor Orbán and also a former deputy minister.
Lokál has been operating as a daily for more than a year and has two very important characteristics besides being owned by businessmen close to the government: first, it receives a huge amount of taxpayer money for publishing advertising that supports the government's views or publicised state-owned enterprises.
Second, its editorial line supports the Orban government's views, that is, Lokál is spreading the official government propaganda. A recent issue published glowing positives stories about the mayor of Budapest (a member of Fidesz) and a story about the rising pay of teachers. In the same issue, there were stories attacking George Soros, the European Union, former left-wing prime minister Ferenc Gyurcsány and far-right Jobbik party.
The fact that Lokál is distributed at the university and that at certain buildings if the school it has its own branded newspaper rack suggests that there is an official relationship – a contract – between the newspaper and the school. At many university buildings Lokál is distributed where the free daily Metropol was found before its closure.
We asked the school for information on the contract and we also wanted to know who authorized the newspaper's distribution in the school. We have not received an answer yet – even though we asked the question weeks ago.
Metropol was the free newspaper that was distributed at the busiest spots of Budapest, but most importantly, at the most popular public transport stops. It was in May 2016 that now-closed daily Népszabadság reported that the the Budapest public transport company (BKK) and the state railway company (MÁV) are in negotiations with MMG about placing Lokál instead of Metropol in their locations. Metropol's contract was not extended and Lokál took the place of Metropol in every bus and subway stop last year.
Metropol, owned by businessman Simicska Lajos was shut down soon after. Simicska used to be a close ally of PM Orban but they had a fallout at the beginning of 2015.
Written by Ádám Őri Ádám
Cover art: Deák Dorottya
You can read the original story in Hungarian here.
[sharedcontent slug="hirdetes-english"]