This is how government-friendly news outlets dominate the Hungarian media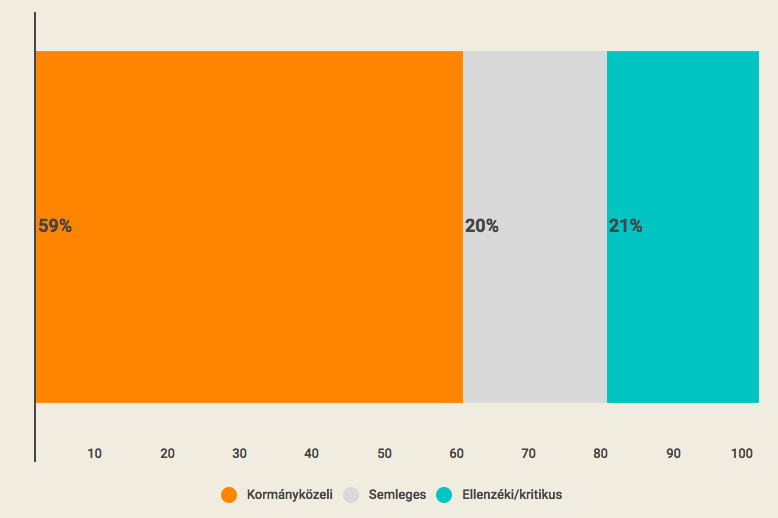 News media outlets with owners close to the government are dominating the Hungarian media scene according to their audience reach – except for one field, online news. But government-friendly media outlets reach more people than all the others when we look at national newspapers, rural newspapers, news magazines, radios or the evening news programs. We summarized our finding in nine charts.
Many researchers, policymakers and citizens want to know to what extent the Hungarian government has taken over the Hungarian media scene since it came into power in 2010. We already have data on how many media outlets are owned by the government or businessmen friendly to cabinet members and we also know how much money they make, but we do not have reliable data on how many people they actually reach.
It is hard to collect data because the think tanks and research institutes that measure audience reach either do not publish their findings or they cannot get the numbers from all outlets. This means that our findings presented below cannot be one hundred percent accurate, either, but we are convinced that they give you a correct overview of the situation. We examined 102 news media outlets and explain the problems we faced during work below every graphic.
Here is the list of media outlets we looked at and the categories we assigned to them (Help for English speakers: kormányközeli – friendly to the government; Semleges – neutral; Ellenzéki, kritikus – opposition/critical of the government)
Circulation of national daily newspapers
Orange: friendly to the government; Grey: neutral; Blue: opposition/critical of the government

We looked at the 2017 Q2 data published by the Hungarian Circulation Auditing Alliance (MATESZ). Most government-friendly newspapers (Lokál, Magyar Hírlap, Magyar Idők, Ripost, Világgazdaság) do not have MATESZ audit them so it is hard to get reliable data about how many copies they sell. We relied on information we received from anonymous industry insiders and independent estimates.
Circulation of regional daily newspapers
Orange: friendly to the government; Grey: neutral; Blue: opposition/critical of the government

We had an easier time with regional papers: MATESZ is auditing all of them, and all of the 18 regional daily papers are owned by government-friendly businessmen. They are Lőrinc Mészáros, Andy Vajna and Heinrich Pecina.


Circulation of weekly news magazines

Orange: friendly to the government; Grey: neutral; Blue: opposition/critical of the government


Circulation of weekly news magazines – without Lokál Extra

Orange: friendly to the government; Grey: neutral; Blue: opposition/critical of the government


We looked at nine weekly news magazines. Four of those are not audited by MATESZ (Lokál Extra, Figyelő, Élet és Irodalom, Magyar Narancs) and they do not include circulation numbers even in their media offers. We tried to be fair to them when we estimated their circulation, and we most probably over-estimated the number of copies they sell.

Lokál Extra is distributed free of charge in 110,000 copies. This number tilts the numbers towards government-friendly media greatly, this is why we decided to include a graph where it is excluded from the numbers – to show you its significance.

Daily average readership of online news portals

Orange: friendly to the government; Grey: neutral; Blue: opposition/critical of the government


Online news media is the only area not dominated by government-friendly media. Unfortunately, there are a few news sites that are not audited by DKT OLA thus we do not have reliable numbers (888.hu, Figyelő.hu, Magyaridők.hu, És.hu). We still had 50 online outlets that we included in our estimates (we did not include news aggregators and blogging services).

Daily average number of listeners of radio stations

Orange: friendly to the government; Grey: neutral; Blue: opposition/critical of the government


We looked at the latest, 2017 Q2 data published by TNS-Hoffmann-Médiameter. We categorized the two public-service news channels, Kossuth and Petőfi as government-friendly. We put Rádió1 owned by Andy Vajna in the same category. We have to note the fact that many radios that seem independent use the news service of the government-funded Hungarian News Agency.

Audience reach of evening TV news programs

Orange: friendly to the government; Grey: neutral; Blue: opposition/critical of the government


It has long been a serious problem in Hungarian media research that there is no publicly available data about the audience of evening news programs. It is Nielsen that measures the audience share of these programs but the company refuses to publish the data, citing its contract with the TV channels. This led to all TV channels claiming that their news program is the most popular. We used the data found here, but, unfortunately, it only includes RTL Klub, TV2 and the public service channel, M1.

Total reach of news media, percentage

Orange: friendly to the government; Grey: neutral; Blue: opposition/critical of the government


Total reach of news media, number of people

Orange: friendly to the government; Grey: neutral; Blue: opposition/critical of the governm


We can conclude that by the end of 2017 government-friendly media outlets are reaching the most people. If you look at the summary, you see a number that is higher than ten million, that is, the population of Hungary. The reason for that is that we do not have any data on cross-readership or cross-platform media consumption. We also do not have data on how many people are not consuming any news media. We also cannot tell how many people us only government-friendly media or only critical media to get informed.

Written by Attila Bátorfy
Special thanks to Ágnes Urbán (Mérték Médiaelemző Műhely, mertek.eu)

[sharedcontent slug="hirdetes-english"]