Thousands of trees cut and left to die in Budapest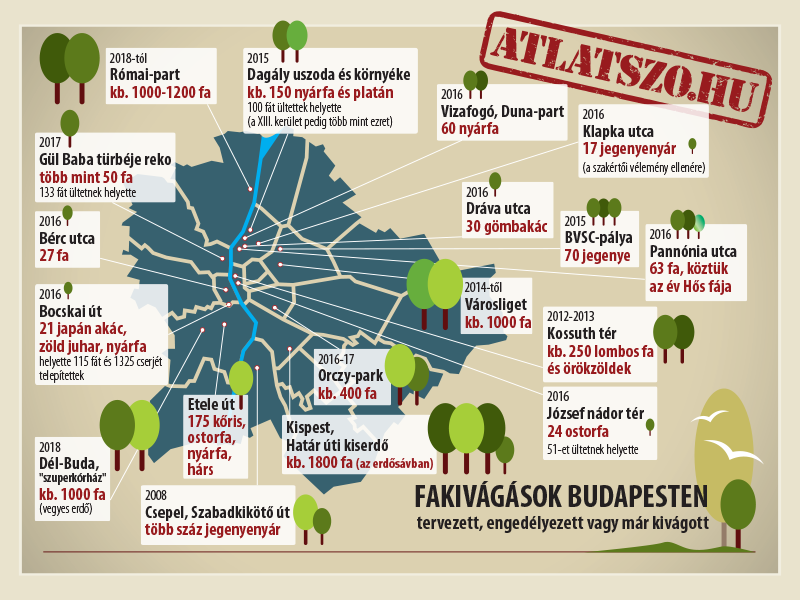 The last five years were a dark period for nature within the borders of Budapest: more than 15 thousand trees were cut during this period. According to official statistics, 40 thousand young trees were planted during the same time but many of those are struggling or dying because they are not watered or cared for after they are ceremoniously planted and photos of politicians planting them are taken.
However, the number of trees that have been cut might as well be higher than 15 thousand. The numbers were added up by news portal Index.hu, based on the permits granted by the municipalities to cut the trees. But we do not know, for example, exactly how many trees were cut in Orczy Gardens. We only know the number of the permits, but nobody knows how many trees were actually cut during the 'massacre' there and how many more will be cut by the time the construction of the new buildings of PM Orban's favorite public service university is finished.
We also do not exactly know how many trees were and will be cut during the developments in Városliget (City Park) because even the integrity of the database listing the trees standing in the park was questioned by experts.
Also, the proposed mobile dam at the so-called Római riverbank of the Danube includes cutting down 400-500 trees but experts say that probably many more trees will have to be cut.
And it was only a few days ago that the municipal council of Budapest voted in favor of cutting down all Canadian poplars because of the allergic reaction they cause. The council voted to replace the trees, but planting young trees is not a guarantee that the number of trees will stay the same in the Hungarian capital.
There has been a tree-planting craze all around Budapest in the past few years in order to balance out the negative press caused by the tree cutting.
But if you look at those trees planted, you realize that those 6-10-year old trees are not as tall as they should be and are not growing properly. Some of them have already died.
To be fair, there are places where the young trees are watered and are properly growing but our walk in Budapest proved that at many places these little trees do not even stand a chance: they do not get any water or care at all. There are many districts in Budapest where you can see new trees planted among other young trees – an attempt to replace those young trees that died due to the lack of care.
Hiába a fásítási kampányok, gondozás nélkül nem lesz több fa a városban from atlatszo.hu on Vimeo.
We asked the relevant officials who told us that there is no real problem with the trees and they have the resources to care for them – and that they regularly check on the young trees.
But our walk in the city with expert András Visnyovszki proves that there are many places where the young trees are clearly struggling, despite to optimism of the officials who are responsible for them.
Written by András Becker
You can read the original story in Hungarian here.