Orban's enigmatic Swiss friend becomes president of Habsburg Otto Foundation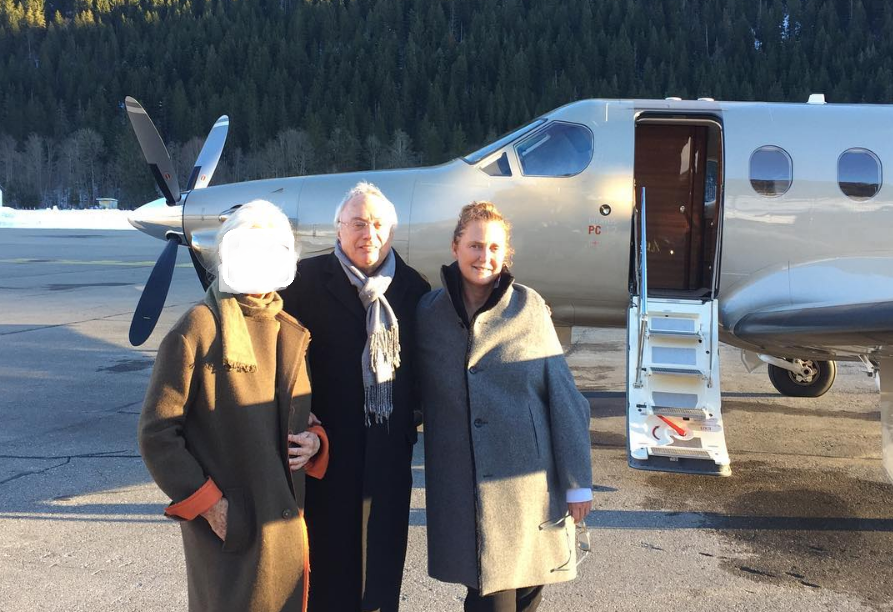 Hungary's ambassador to Switzerland became the president of the Habsburg Otto Foundation, an organization that the Hungarian government created in June. The Foundation, led by István Nagy, will be responsible for the management of the late Habsburg crown prince's intellectual legacy, based in the Buda Castle in Budapest.
The Hungarian foundation is going to work together with the OVH (Otto von Habsburg) Archiv Stiftung in Lichtenstein, a foundation with a similar profile. Otto von Habsburg died in 2011.
The Hungarian organization was given HUF 100 million as a start, but another HUF 330 million has already been approved for this year's operations – Atlatszo.hu learned from the founding documents that have recently been filed in court.
István Nagy, president of the foundation has close relations both with the Hungarian government and the Habsburg family. In Zurich he was photographed with PM Viktor Orban several times. Nagy has long been a close friend of Francesca Thyssen-Bornemisza, the estranged wife of the current head of the Habsburg family, Prince Charles. Their friendship was publicized on Nagy's Instagram account, open to the public until a few days ago; Nagy deleted the account after this story was published by Atlatszo in Hungarian.
However, it is no secret that Nagy and Francesca Thyssen-Bornemisza not only party together but there are also financial ties between them. This is why it is not surprising that Nagy, the banker and diplomat became the head of the foundation.
Nagy is a trustee in Francesca Thyssen-Bornemisza's art foundation TBA21, the organization that runs the Thyssen-Bornemisza Museum in Vienna. According to a source close to the foundation, Nagy also knows a lot about the companies owned by the Thyssen-Bornemisza family in the British Virgin Islands.
Mr. Arabia becomes a Swiss banker
Nagy is a colorful player in the Hungarian political scene. He is a citizen of the world who is sometimes mentioned as 'Mr. Arabia', which is not surprising considering his connections and expertise in, for example, Lebanon. Nagy was the CEO of Lebanese Audi Bank in Switzerland, for example. He has such good connections in Lebanon and Saudi Arabia that according to news reports even Viktor Orban needed his help organizing his official visits into those countries.
Nagy has long been considered a financial advisor to the Hungarian Prime Minister – although he denied that in an interview in 2015. However, theories about their relationship are fueled by Orban's frequent trips to Switzerland and by a photo that was taken of the two of them having a beer at the bar of the Zurich train station. It also does not help quiet the rumors that the businessmen close to the Orban-gvoernment, as well as a few politicians themselves, have long had business dealings in Switzerland.
The ambassador's whole life seems like it was taken out of an adventure novel. He left communist Hungary in the 1960s. He lived in Lebanon; as a music correspondent for Radio Free Europe he interviewed Elvis Presley and he partied with Jim Morrisson. He eventually became a banker and was posted to cities in Africa, the Middle East and then to Paris and Geneva.
In the above-mentioned interview with mandinder.hu he says that he met the conservative Hungarian community living in Switzerland at the end of the 1980s. This is how he met Dezső Kékessy, friend and business partner of the Orbán family. Kékessy was later appointed as ambassador to Paris by Orban.
Thyssen-Bornemisza's close ties to the Hungarian art scene
We asked both the Bern embassy and TBA21 about the relationship between Francesca Thyssen-Bornemisza and István Nagy. We asked what Nagy's role as a trustee in TBA21 exactly entails and we were also asking about whether Francesca Thyssen-Bornemisza got in touch with the Hungarian government through Nagy. Both the embassy and the foundation promised answers but we have not received those yet.
But it is possible that Thyssen-Bornemisza did not need Nagy's introduction. Hungarian weekly HVG says that she has such a good relationship with the former state secretary of culture Géza Szőcs that she even invited him to her Mariazell wedding in 1993. Szőcs is said to be a confidante of Anikó Lévai, PM Orban's wife.
This relationship was suddenly very important in 2011, when Francesca Thyssen-Bornemisza was applying for the position of the head of the Budapest Hall of Arts, and Szőcs was her strong supporter.
She did not have the relevant education for the job and she does not speak Hungarian – but the support was so strong that these might not have disqualified her from the job had she not withdrawn her candidacy.
Written by Antónia Rádi
You can read the original, Hungarian language story here.
[sharedcontent slug="hirdetes-english"]