Hungarian MEPs from the governing party silent about office rent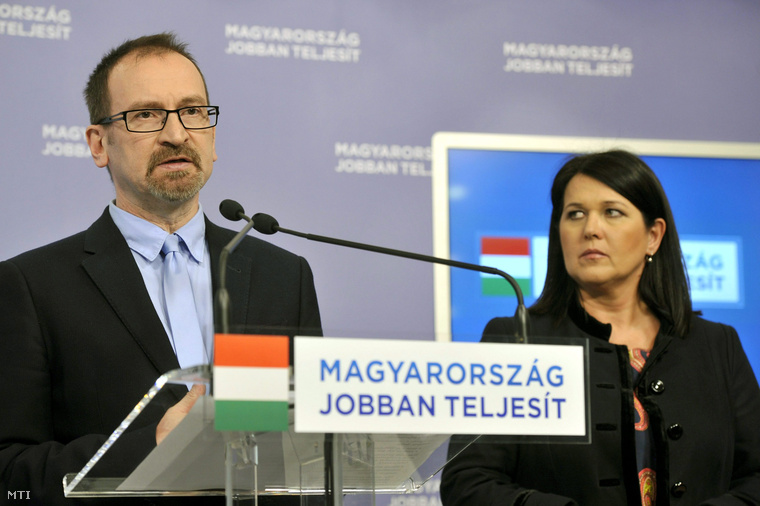 None of the twelve Hungarian MEPs from the governing Fidesz party answered our questions about how they are spending their monthly General Expenditure Allowance that they receive from the European Parliament. That money should primarily be used to rent an office in their home countries, but they are not required to account for how they are spending the money.
Members of the governing party in Hungary chose the easiest path: they did not reply to our requests for information. This means that we cannot check if they are renting an office at all, whether they are renting at proper market price or who the owner is. The latter is especially important: there are MEPs who rent from their own party, for example. This means that they might use the contract as a hidden way to channel the money to their parties. You can read about the EU-wide investigation here.
In this unprecedented EU-wide collaborative effort, our journalists in every member state looked into the way in which the 748 current MEPs (three seats are vacant) make use of the general expenses payments received from the parliament. Our reporters requested information from all current 748 MEPs and analysed documents from the parliament, land registries and other sources. So far, just 134 answered what they pay in office rent, while only 53 said that they were willing to share documents on their public spending.
MEPs receive a monthly pay of €8,484, a generous budget of up to €24,164 for office staff, and a daily subsistence allowance for personal expenses during sessions of €307 per day, the latter one tax-free. On top of all that, the parliament pays each MEP a lump sum of €4,342 per month – again, tax-free. The latter amount is the so-called General Expenditure Allowance (GEA), which is intended to cover the cost of national offices that, among other things, facilitate contact with EU citizens.
Out of 21, only one proper answer
Atlatszo's journalists joined the project and asked MEPs from their own country how they were spending the GEA. We asked if they were renting a national office, for how much and what the address is. From the answers we received one thing became very clear: Hungarian MEPs are really similar to their Polish colleagues when it comes to transparency. Neither Polish nor Hungarian MEPs were keen on telling the public about how they are spending that money.
Out of 21 Hungarian MEPs 13 simply did send any reply to us: they were the 12 MEPs from the governing party, Fidesz and Krisztina Morvai, MEP from Jobbik.*
Tibor Szanyi from the Socialist Party send us his answers soon after we published our original, Hungarian language article. He claimed that his answer has not been forwarded to us due to a technical error.
Four of those who answered said they did not rent a national office: they are Csaba Molnár (Democratic Coalition, DK) and István Újhelyi (Hungarian Socialist Party, MSZP), Tamás Meszerics (Politics Can Be Different, LMP) and Péter Niedermüller (Democratic Coalition, DK). Tibor Szanyi (MSZP) sent an answer to us saying that he is renting an office and gave us an address in the 8th disrict in Budapest, but he gave no further information.
Zoltán Balczó (Jobbik) said that he did rent a national office for the reasonable price of HUF 150,000 a month (EUR 500). However, he was not willing to tell us the address of the office.
The only MEP who is renting an office and who was willing to answer all of our questions was Benedek Jávor (Dialogue for Hungary), who is a member of The Greens in the European Parliament. In an interview with Atlatszo he said that he thinks that MEPs should not consider the GEA as part of their salaries. They should keep that money in a separate bank account and spend it transparently and let voters know how they are using it – because it is ultimately the taxpayer's money.
Jávor has a staff member who is responsible for handling the GEA, keeping track of spending, archiving the invoices and every six months adding them up so that they can publish them on the MEP's website.
*UPDATE, June 22, 2017: The Jobbik press office sent us an email saying that MEP Krisztina Morvai has offices in Brussels and Strasbourg, nowhere else. The office claimed that Morvai's email had not been forwarded to us before due to a technical error.
Written by Katalin Erdélyi and Balázs M. Tóth
The Hungarian version of this story is here.
The investigation into MEPs' national offices was conducted over several months by a group of 48 journalists, representing all 28 EU member states, with financial support from Journalismfund.eu.
In 2015, the group formally asked the European Parliament for access to documents, showing how MEPs conduct their public spending. The requests were denied. The journalist then brought the case to the European Court of Justice, where it is still pending.
Background information on the legal case and more about the journalists' initiative – including names of the participants – can be found here.
[sharedcontent slug="hirdetes-english"]