Journalists more pessimistic than ever about press freedom in Hungary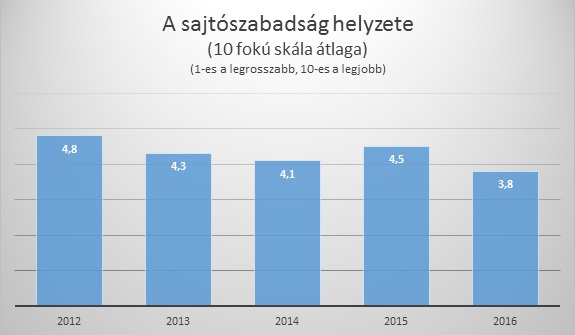 State of press freedom on a 1-10 scale (1: worst; 10: best)
Hungarian journalists are more pessimistic about press freedom in Hungary than ever, according to the most recent study done by Mertek Media Monitor.
Mertek has been conducting its annual poll since 2012. Ever since that year journalists' opinion of press freedom in Hungary has been declining with a small uptick in 2015. Their most recent answers are the darkest so far.
Every year, journalists are asked to rate press freedom on a scale from 1 to 10 where 1 is the worst and 10 is the best score. In 2012 they gave an average score of 4.8 while in 2016 the score was only 3.8. The numbers show even more pessimism when we look at answers about the strength of political influence on news media.
75 percent said that there was a 'very strong' political influence, strong enough to curtail press freedom. Another 18 percent said that the political influence was 'strong.' Last year only 48 percent said the influence was 'very strong.'
Degree of political influence – 'very strong' – 'strong' – 'weak' – 'very weak'
This year 56 percent said that they personally experienced political interference during their work and 48 percent said they experienced interference from the business world. 33 percent said that they have decided not to publish certain pieces of information in order to avoid possible disadvantages. 28 percent admitted to self-censorship last year.
Methodology
An online questionnaire was sent to media companies including print publications, online news sites, TV and radio channels (including commercial and public service channels as well). The poll is completely anonymous which means that Mertek cannot tell whether those answering the questionnaire are representative of the complete Hungarian media.
This year only 90 journalists answered the questions. Mertek does not know why the number of answers dropped; we can only speculate that it was the general atmosphere in Hungary that kept journalists from answering even an anonymous questionnaire. Another reason for the drop might be that journalists think there is no point in telling us about their experience any more.
The Hungarian version of this blog post is here.
You can read the complete results of the study here (in Hungarian).
[sharedcontent slug="hirdetes-english"]