Minister tied to scene of mob-era assassination attempt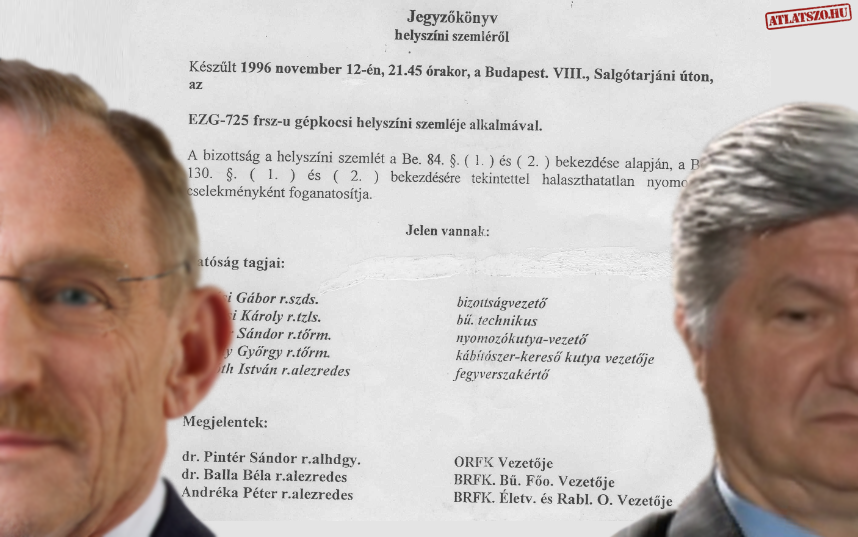 Recently, a chapter of the rampant mob scene of the 1990s has been dusted off, one that has at its center the police minister and former chief of police Sandor Pinter. According to a report obtained by Atlatszo.hu, Pinter was present at the scene of a mob-related assassination attempt, even though earlier he denied it. It also turns out that the officer who filed the records saw a sad end to his career on the force.

Hungary's current interior minister in charge of law enforcement Sandor Pinter has repeatedly been linked to organized crime that was rampant in the '90s and is still felt today to the extent that prosecuted individuals claimed the chief of police was in many cases directly involved.
An emblematic event of the mob saga was when Gyorgy Tanyi was charged with attempting to assassinate competitive horse carriage driver Csaba Lakatos by firing at him four times. Tanyi's brothers were found by police near the scene of the crime, they had firearms with them and trace of narcotics. Tanyi himself was detained at his home. Lakatos was seriously injured, but survived the attack and recovered.
In 1997, Tamas Boros, a central figure of the mob dealings gave a video testimony claiming that police chief Pinter appeared at the investigation of the crime scene. More importantly, Boros also claimed that Pinter also removed evidence. Boros famously died in a bombing in 1997 in central Budapest.
Shortly afterwards the Lakatos case was closed due to lack of evidence, even though the charges against Pinter were discussed widely in the media and even parliament, but no solid results were achieved.
The investigation was reopened a decade and a half later in 2014, once more naming Tanyi as the defendant who fired at Lakatos. The report we acquired both confirms Pinter's claim to a certain extent and also clearly refutes them.
In denying the claims in a parliamentary hearing, Pinter stressed that he was not at the scene, but that he "may have stopped somewhere along the way" that night. Technically this is true, because the record places Pinter a few streets off from the actual location, he was apparently present at the site where the Tanyi brothers and their weapons were detained.
We reached out to several individuals involved at the time. Most could only say that the document is "probably" genuine, it was a long time ago after all. However, the signatory of the report at the time Gabor Tamasi owned the document as valid, which we accepted.
Although Tamasi stated that he did not meet Pinter, given the necessity for detail he noted the chief's presence, which he recorded based in his colleagues' accounts. As he told us, at the time there was nothing particular about high level leadership appearing at an active crime scene, Pinter also appeared on several other locations where forensics were active. Tamasi said he later paid a visit to the chief prosecutor's office, who reassured him that the report he submitted about the event was in line with regulation.
However, later on, Tamasi's career in law enforcement came to a shameful end. He got involved in a loan case that eventually led to him getting a suspend prison sentence, accordingly he could no longer serve as a police officer. He denied having done anything wrong.
The reason the matter is now once more important, is because government-leaning media claim that Pinter is the target of a planned character assassination, and Tanyi is a central figure.
The report shows that Pinter personally identified one of the weapons found in the Tanyi brother's car. It should be noted that there is still no formal or informal confirmation of Boros's claims that Pinter would have tampered with evidence.
Original article in Hungarian
[sharedcontent slug="hirdetes-english"]