Premier Orbán and Interior Minister Pintér accused of taking mob payouts in the 1990s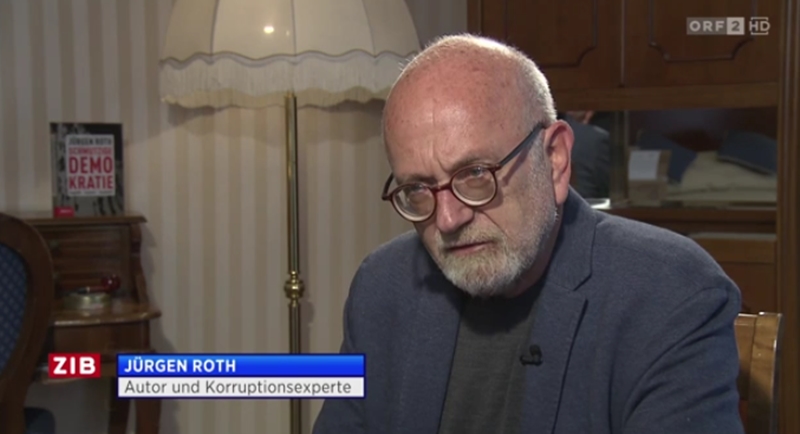 Russian media has recently released reports that Hungary's reigning Prime Minister Viktor Orban accepted bribes from the Russian mob back in the 1990s, as did his current police minister Sandor Pinter. The allegations are not new, but the story may be tied to Orban's recently-found friendly relations with Vladimir Putin's government. If the accounts of the story are to be believed, not only did Orban accept money, there is evidence of it, leaving him exposed to blackmail.
A story that dates back more than 20 years has resurfaced and is creating grounds for speculation.
German investigative journalist Jurgen Roth has recently published a book that explores the intertwining of politics and crime. A story covered mentions a senior young politician in Hungary accepting a considerable bribe from Russian organized crime through intermediary. Although Roth did not name the individual in his book, Russia's Insider stated that the person in question is none other than reigning Prime Minister Viktor Orban. The suspicions were confirmed later on by Roth himself as well as Atlatszo.hu's journalist, who recorded an interview earlier that led to the same conclusion.
This previous incident is perceived as the foundation of Orban's newfound friendship with Russia, speaking out even at the time of sanctions that were imposed in response to the Ukraine aggression. Just recently, President Vladimir Putin paid an official visit to Budapest as a show of friendship. The explanation that Insider points to is that the Russians have "kompromat", compromising evidence of Orban accepting the money from a Russian crime boss, who made a recording and passed on the footage to Russian secret services.
Atlatszo.hu was given permission from Roth to translate and publish the relevant chapter of his book.
The story dates back to the 1990s. When Orban was first elected premier, his Interior Minster Sandor Pinter, former national chief of police was already allegedly in connection with Russian crime circles operating in Budapest. There were also other signs, such as the statement of a woman who claims to have seen Pinter formally meeting her husband, Dietmar Clodo.
Clodo is a key figure of Hungary's 90s' crime tales. The German man has a very colorful past. He spent time in Afghanistan supporting the Mujahidin in their fight against the Soviets. He fought as a mercenary in Rhodesia in the 70s. Many sources say that he met several times with Osama Bin Laden. He speaks English, French, Arabic, Hungarian, German, but also Urdu and Pastu. He arrived in Hungary in 1989 at the time of the democratic transition, and then went on to promote Hungary as an attractive investment opportunity for investors abroad.
He met Semion Mogilevich, or "Seva" for short after an encounter at the airport in Frankfurt. He was approached by a man wearing gold chains, named Dimitri. The Russian was very grateful to Clodo, who helped him escape captivity in Afghanistan. He introduced him to his uncle Mihas who was also there along with two others. That was the nickname of Sergey Mihajlov, head of the biggest criminal organization in Russia at the time.
Clodo said he was worried about what his business partner may think if he saw who he was talking to, since the Russians had every characteristic of a "mobster" on them. A conversation about what he was doing and that he was doing business in Hungary was met with joy, since that "belonged to them." Clodo was offered an introduction to Seva, who was in charge of the criminal organization's Hungarian chapter.
The two met several occasions and apparently managed to establish a good relationship.
Clodo was entrusted with handling the payout of certain sums on Seva's behalf. It was through this that as he later testified, he gave Pinter payouts that usually amounted to 10 thousand German marks. He wasn't the only visitor to the residence where the transactions took place, the site was frequently visited by people who "did things" for Seva. Clodo later said he didn't question the arrangement, mainly because he was handsomely compensated.
As it turns out Seva claimed that he wanted to get some insurance, accordingly there was a camera installed in the room where the deals took place and there are apparently recordings of the events. These records – if the allegations are true – include Viktor Orban accepting a briefcase containing one million marks. Interestingly enough, Clodo's recollection of the alleged Orban payout has him meeting with a young and influential person he did not recognize, who he was told was going to be very important in the future.
Clodo had another interesting story to tell. He stated that Pinter at one point demanded that he should get a 51% stake in Clodo's business, after which matters got heated and Clodo claims he struck Pinter, something his wife witnessed. Shortly afterwards, in June of 1998, he was the subjected to a police raid, handcuffed and arrested. The investigation found that he was in possession of 10 kilograms of explosives and 42 kilograms of chemicals needed to produce bombs.
He was sentenced to 10 years in prison.
However, a senior investigator closely involved with the case is to this day convinced that Clodo was framed. The man, B, stated that the person responsible of the numerous mob-related bombings in Budapest in the 90s' was Seva's security chief Leonid Stecura. B claims that Stecura was closely linked to the mob circles that operated at senior levels in the government and the state and that he personally ordered at least 25 assassinations. He said Stecura was actually far more dangerous than his boss, who had no knowledge of what his security chief was up to.
B firmly believes that it was Stecura who set up the arsenal that was used as the basis of Clodo's arrest. B interviewed Clodo, believed him and wanted to investigate Pinter and other prominents implicated in the case. The matter was taken from him and he was discredited based on apparently unfounded blackmail charges.
Clodo then had a few occasion to voice his accusation while in custody, but neither the authorities, nor the media gave it any publicity. Roth recounted that Pinter once raised the need to explore one of the main scandals of the 90s', which involved oil sales that the entire organized crime and many politicians were involved in at the time. Pinter tasked an independent expert with overseeing the investigation, Andras Horvath. As it turns out, earlier Horvath worked on the board of Pinter's company, so there was surely no independence.
Roth's sources in Hungary are convinced that Pinter only launched the probe led by Horvath so that he could make incriminating evidence disappear.
Clodo was transferred to Germany to serve out his sentence, but was released early. This was in part due to the confusing nature of Hungary's court proceedings and also the fact that the presiding judge got a call from Pinter who tried to exert pressure for Clodo's continued detainment. The judge took offense for the attempted interference and set the defendant free. Clodo remains associated with Seva and is also involved in charity work, educating children.
As Atlatszo.hu reviewed the accounts, we have to highlight several questionable aspects regarding Clodo's claims.
It is difficult to believe that Clodo did not recognize Orban, who was all over the media. When we asked him Clodo said he simply had no interest in local political matters, that is why he could not immediately place a well-known political figure. There is a contradiction between Clodo's accounts of the encounter about whether Orban went alone or if he had an associate presents. On separate occasions, he stated both accounts.
Those who do not believe Clodo believe that he simply fabricated a bombastic story seeing Orban's rise to the forefront of European politics in the past years. What hasn't surfaced, are the recordings of the dealings in Clodo's Budapest office, even though there is police footage of discovering the hidden cameras, which are thus real.
Original articles in Hungarian here and here
Your support matters

Atlatszo.hu is financed by nonpartisan and non-governmental sources; we do not accept money from state institutions, political parties and affiliates. We rely on support from readers. Donate here.