Refugees get deplorable treatment near Hungary-Serbia border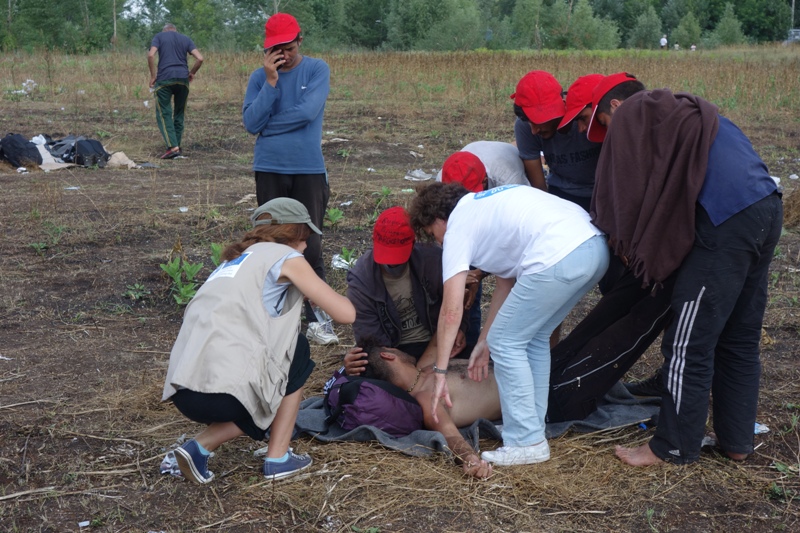 The situation is getting dire for many refugees caught at Hungary's southern border with Serbia. Many looking to move on west are caught in no man's land as they wait for processing. Atlatszo.hu found that the authorities are downright hostile with the migrants often doing hem physical harm while rounding up those who try to cross the border barrier illegally.
Subsribe to our weekly newsletter here.
Atlatszo.hu continues its coverage of the migrant situation at Hungary's southern border, even though the matter has fallen out of the media's core range of interest in the past months. As we reported earlier, the Hungarian government decided to halt the flow of migrants through raising a fence on its borders and is now formally processing the requests for entry submitted by the arrivals.
Unfortunately, as we learned from those stuck outside the fence, the processing itself is very slow prompting some to go on a hunger strike at the time of one of our visits.
A spokesman for the dwellers in the makeshift camp told us that their demands are not unrealistic, they don't expect the gates to just be opened to let them all in, but they do want to speed things up, especially given the deplorable conditions in which they are living, having to survive on mainly canned tuna they get from the charities helping them.
At the time of our visit, it was Atlatszo.hu's correspondent who had to step in, since one of the young men on hunger strike went into an epileptic fit and needed resuscitation.
Many who have been stuck in limbo for what is often months decide to take their chances and make the crossing illegally. They are usually eventually caught and they report being subjected to pepper spray, beatings and even dog attacks from people in uniform.
The stories we heard involve travels that span thousands of kilometers through extreme hardship, and these people are easy targets, who are also subjected to police brutality. Human rights groups have also condemned the Hungarian handling of the situation.
The refugee situation is also redeveloping in Budapest, even though at a much smaller scale than it did just a few months earlier. We visited the location along with charity workers, who were at the time treating the foot injuries of a young man who apparently got hurt climbing over barbed wire. The charity workers we met also recounted several instances when migrants complained about violence from people in uniform but couldn't be any more specific. As such, it is almost impossible to solicit legal recourse, especially since these incidents typically happen at night in the dark.
Your support matters
Atlatszo.hu is financed by nonpartisan and non-governmental sources;
we do not accept money from state institutions, political parties and affiliates.
We rely on support from readers. Donate here.