Agitation, call to arms, cultural divides – Atlatszo.hu investigates Hungarian nationalism in western Romania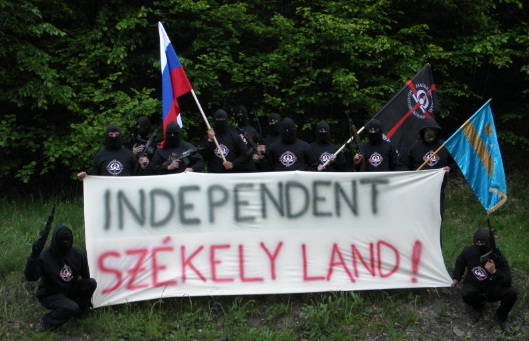 The Transylvania region of Romania, with an important ethnic Hungarian minority, has a vibrant but extensively fragmented culture of nationalism, which invariably advocates Hungarian interests, but greatly differs in how far individual players are willing to go and the methods they are willing to employ. Atlatszo.hu investigated the scene.
The issue of ethnic Hungarians has been a tense matter for almost a full century now, dating back to the Trianon peace treaty that ended World War I. As a result, Hungary, which was on the losing side, lost the biggest part of its territories, its resources and millions of its nationals instantly became citizens of neighboring countries in the Balkans, Slovakia, Ukraine and Romania.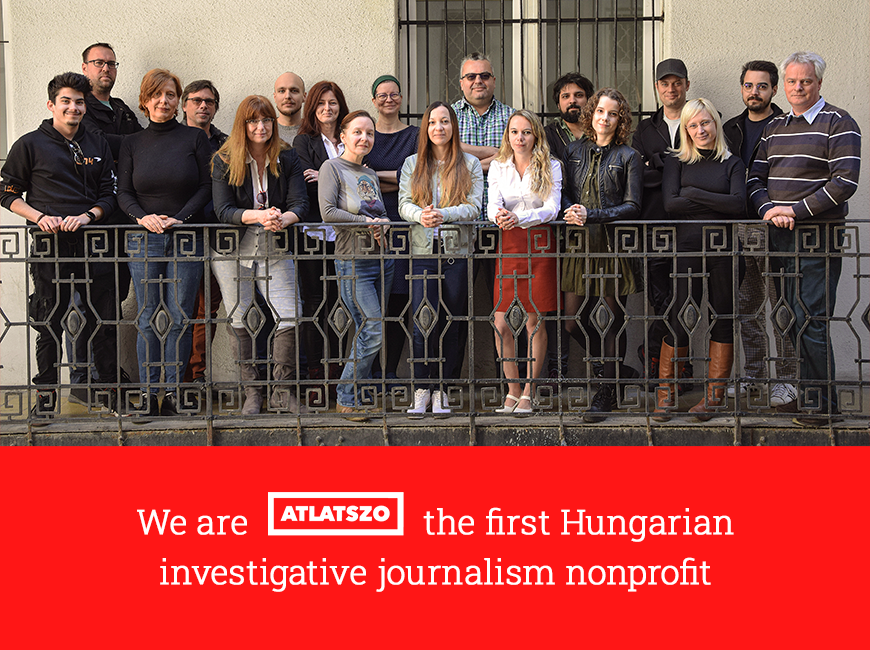 Over the past decades as well as today, (typically) right-wing political groups, sometimes moderates, but more commonly radicals use the case of ethnic Hungarians to score political points, which is sometimes supported by current events, like introducing laws in neighboring countries that limit minorities' rights that can be perceived as a direct assault on local Hungarians, or altercations that stem from nationality and make the news.
Atlatszo.hu immersed itself in Transylvania's local culture to have a look at the state and the mentality of Hungarian nationalism in the region, to explore the drives and ambitions and the local radical movements' ties to fellow organizations in Hungary.
Radicalism for youngsters
It is becoming a clear phenomenon that a growing number of young people are showing up at events advocating radical views in Transylvania. There are currently three or four such organizations, each with ties to Hungarian peers, but with different approaches.
While Hungarian radicals are more focused on "big picture" matters like critique of the European Union and the United States, ethnic or religious minorities perceived as threats, Transylvanian groups, being a minority themselves, are more focused on issues they face because of their national identity. This core concept is also the basis of the support enjoyed by the moderate Hungarian parties in Romania that are normally able to achieve parliamentary representation at general elections and have also held positions in government coalitions.
Since these moderate organizations are in need of visible support, they often rely on the radicals to support various public events and drives, which is the reason the nationalist symbols are often featured at events with a non-provocative agenda that leads to the two groups often being lumped together. Such occasions are normally limited to local events, since the mainstream political parties are aware that closer ties to the radicals could put them in a bad spot in the public eye.
Disorganized
Typical of the Transylvanian scene is that the various groups operate individually, they are aware of the existence of the others, but there is very little coordination. On various occasions, they have been known to co-organize various events, but those appear to be ad hoc matters only because of good interpersonal relations between the members of the groups involved.
In contrast, some groups that may have similar goals and agendas will never cooperate because their leaders have personal grievances.
This type of attitude is also present in the various hierarchies within these groups. One group leader said that despite having several sub-chapters in various locations, they also don't necessarily have to obey central commands, while he also said that leaders become leaders through "natural selection." There are numerous cells, some are active, some only formally exist, there is no definite knowledge.
The overall biggest and most organized party on the scene is Hungary's Jobbik, which became the second strongest political power at the May European Parliamentary elections. Jobbik has made extensive efforts to establish a network in neighboring Romania and throughout its brief history tried to maintain closer relations with like-minded Transylvanian groups. However, it too relies on personal relations to strengthen its base and despite ambitions, it has failed to grow in significance. Sources on the ground say Jobbik will never be able to properly integrate the diversity among the Hungarian groups in Romania, which are more fragmented in their ideas than Jobbik's home base.
Autonomy vs. All-out war
The disorganization is also due to the fact that there is a great difference in the intensity of how these groups perceive the way to reaching their goals. The drive in Romania in general is to assure some form of autonomy for Szeklerland, the area inhabited by the Székely Hungarians.
More commonly, the groups try to use peaceful means, organizing demonstrations, screening controversial films that display historic injustices against the Hungarian minority, sometimes provoking local authorities or even getting into scuffles.
The even more radicals are convinced that there will never be victory without bloodshed.
The goal of autonomy is also supported by Hungary's government, which was reelected to office in 2014, once more with a parliamentary supermajority. Prime Minister Viktor Orbán recently caused political tensions when he advocated autonomy for the Hungarian regions in the Ukraine amid the ongoing revision of the country's borders. This only underlines Hungarian mainstream politics' aim to stay in touch with Hungarian ethnicities. Orbán's government also introduced dual citizenship for ethnic Hungarians. This, as well as the general rhetoric, have occasionally caused bilateral tensions since neighboring countries feel Hungary is meddling with the domestic affairs of another sovereign nation.
There are currently three-four radical organizations in Transylvania. Each has ties to radicals from Hungary, but these organizations are not simply local versions of movements from Hungary.
The most important difference is in their discourse. In Hungary, radical organizations show deep skepticism towards the EU and the US, and are concerned with jews and gypsies'. In Transylvania, radical organizations are more preoccupied by the problems faced by Hungarians as a minority, their most important message being that of autonomy for Szeklerland.
In fact this message is also shared by the 'mainstream' Hungarian political elite from Transylvania. The radical approach is different because often they don't recognize the Romanian borders as agreed with the Trianon treaty, and they see violence as a necessary and legitimate way to accomplish their goal.
There is no institutionalized cooperation between Hungarian Youth of Transylvania (EMI), 64 Counties Youth Movement (HVIM), the Transylvanian chapters of Jobbik and the Szekler Guard (Székely Gárda). In some instances, there are tensions between the leaders, but they are "aware of each other", and they usually promote each other's programs.
In some cases, local organizations would even cooperate, but these cooperations are random, and are only possible due to personal good relations between the local activists.
The attitude of the political mainstream – Democratic Alliance of Hungarians from Romania (RMDSZ), Hungarian People's Party of Transylvania (EMNP) and Hungarian Civic Party (MPP) towards radical organizations is ambivalent. In public, they try to keep their distance from radical organizations, but at the same time, they are aware that it is impossible to isolate these organizations completely.
The mainstream parties are in constant need of manpower, and many of their programs lack participants, so on a local level they usually tolerate the presence of young people with black shirts and Arpad striped flags. In Szeklerland, sometimes they even employ these young people as organizers, and there are instances when they look at members of radical organizations as a pool of potential activists.
Hungarian Youth of Transylvania
One of the oldest Hungarian radical organizations in Transylvania is the Hungarian Youth of Transylvania (EMI). Every year, EMI organizes a summer camp, where the leaders of Jobbik are usually invited as special guest speakers. EMI was formed in 2002, independently from Hungarian radical organizations by a couple of Hungarian friends, who discovered that no Transylvanian NGO is specialized on issues of Hungarian identity.
At first, their goal was to challenge taboos. They had quite a few conflicts with Romanian officials, and Hungarian mainstream. In 2005, they organized the screening of Gabor Koltay's Trianon movie (the documentary was later banned by Romanian officials). Their idea to organize public readings of Albert Wass books also caused a lot of noise. They also made it impossible for a Hungarian liberal politician, Matyas Eorsi, to hold a public speech in Kolozsvar.
Currently EMI has 20 active subsidiaries throughout Transylvania, with about 500 members. They have no employees, everybody works on a volunteer basis. The world view of the members of the organization is varied, there are liberals and right-wing radicals as well. 'We don't see why this should be a problem, everybody makes htheir contribution to the community. The only question is whether we can organize something together' – said Sandor Soos, one of the founders of EMI.
EMI does not seek a political role. Their only political decision was to support Laszlo Tokes to run as an independent candidate at the 2007 EU Parliamentary elections. The leadership of EMI has close ties with the Hungarian People's Party of Transylvania (EMNP), Sandor Soos being the president of the EMNP chapter in Kolozs county.
However, EMI rejected the offer of EMNP and MPP to become the youth organization of the party. Local organizations can freely choose whom they are working with on local levels. Currently EMI has partnerships with RMDSZ, EMNP and MPP.
The relations between EMI and HVIM are strained due to an old personal rivalry between the leaders. Despite this fact, members of the Kolozs county HVIM organizations turn up quite often on EMI's programs, and in Kezdivasarhely, they even organized an event together.
The most important program of EMI is the EMI summer camp, organized every year. Here every right-wing party and organization is welcome. According to Soos, the leaders of Jobbik have a prominent role in the camp mainly because they always accepted EMI's invitation, while the presence of Fidesz in the camp is more problematic.
It is important to note that the leaders of EMI are in good relations with Jobbik leaders, Gabor Vona and Istvan Szavay. When conceiving the program, they even consult with the leader of Jobbik's youth movement, Gergely Farkas. However, they don't have much contact with Jobbik's local organizations in Transylvania.
Soos says they receive no financing from Jobbik. The Hungarian party is sponsoring the travel costs of its members to the camp, who then pay for entrance. Actually the price of the ticket is the most important revenue of the EMI summer camp. The camp has an overall budget of 45,000 euros, and part of this money comes from anonymous sponsors. The Harghita County Council is also among the sponsors of the camp.
The EMI summer camp made headlines last year after someone published a couple of videos on YouTube showing young people practicing shooting with live firearms. The description of the videos claimed that the footage was recorded in the 2012 EMI camp.
EMI as well as the Szekler-Hungarian National Guard (Székely-Magyar Nemzetőrség), the organization responsible for the shooting, denied that the shooting took place at Borzont, the site of the summer camp. Soos believes the videos were a setup, someone was trying to give Romanian authorities a reason to outlaw the camp.
Sixty-Four Counties Youth Movement
The Transylvanian Sixty-Four Counties Youth Movement was formed in 2003, currently it has groups in 14 Transylvanian settlements. Many of these have minimal activity, as far as we know, there are strong groups only in Kézdivásárhely and Kolozsvár. There is constant activity in three more cities. The movement has around 350 members in Transylvania, according to its leader, Zoltán Szőcs.
The most important difference between the Sixty-Four Counties Youth Movement and other organizations is that they don't recognize the borders of Hungary as defined by the Trianon Treaty. They consider the autonomy of Szeklerland only a necessary step towards the larger goal, the re-establishment of the Greater Hungary.
While the mainstream political elite is determined to fight for autonomy only through peaceful means, the  Sixty-Four Counties Youth Movement believes that 'physical action is needed, everything needs to be won by force, it is impossible to achieve anything without bloodshed.'
The organization doesn't have a central command, the groups are planning their own activities. Szőcs says that the groups do inform him about their plans, but he as a Transylvanian leader never gives orders.
It is unclear how the group leaders are chosen. According to Szőcs, there is a 'natural selection', depending on how much an activist works. The members of a group don't elect their leader, and at the same time, the 'headquarters' from Budapest has no interference in this issue. (Another right-wing leader claims that the leaders are named from Budapest).
The groups have a radical approach, and they are 'maximalist': many times they are unhappy with performances, saying that they could have a more radical stance. 'We are not afraid to loose sponsorship, nobody tells us what to do', says the Transylvanian leader.
Szőcs believes the Transylvanian Sixty-Four Counties Youth Movement is in the middle of an organizational buildup. Their programs are becoming more and more popular, and while each group has its own path, these are frequently in contact with other organizations.
They have a good relationship with Hungarian Youth of Transylvania (EMI), and despite the fact that the Sixty-Four Counties Youth Movement rejects political tools, they have a strong relationship with Jobbik.
The Transylvanian Sixty-Four Counties Youth Movement had a meeting last winter with an organization from the Moldova Republic, named National Democratic Movement (Mişcarea Naţional Democrată). In the future, they are planning to become sister organizations with this group leaning towards Russia. Moreover, this summer they are planning to meet a Russian organization.
The Transylvanian Sixty-Four Counties Youth Movement has no legal entity in Romania, but Szőcs is the president and founder of Saint Ladislaus' Army Association (Szent László Serege Egyesület). This association collects the 2% donations, and organizes programs in partnership with the Sixty-Four Counties Youth Movement. The movement has a growing number of anonymous sponsors, says Szőcs.
The most well-known program of the movement is its summer camp, Szekler Sziget. The camp was conceived as a smaller version of Magyar Sziget, the well-known Hungarian radical camp. Szekler Sziget was first organized in 2009, and since then, it had a number of different locations.
Jobbik and the Szekler Guard
On the parliamentary elections, Jobbik got only about 3 thousand votes from abroad, despite the fact that this is the only Hungarian party that has local branches in Transylvania.
The expansion started a few years ago. In 2010, Csanád Szegedi, then an MEP, opened an office in Marosvásárhely. One year later, he opened another office in Szatmárnémeti. He courted Hungarian Civic Party (Magyar Polgári Párt, MPP): he rented his Szatmárnémeti office from the Szatmár county vice president of MPP, Anna Jánosi. Moreover, the president of Szatmár county MPP became his temporary office manager. On the opening ceremony, Szegedi said that Jobbik's goal is to develop a strategic partnership with MPP.
However, the offices did not have much impact. At first, many people were protesting against these offices, but after the protests stopped, the offices organized no newsworthy events. As far as we know, Csanád Szegedi even received reproaches from the party because he did nothing in Transylvania.
After Csanád Szegedi resigned from Jobbik functions, the Transylvania offices lost their importance altogether. We have no information on what happened with the Marosvásárhely office. The Szatmár office was taken over by Béla Kovács, who is accused of spying due his good relations with Russia.
Meanwhile, Jobbik started to build local branches in Transylvania: they now have local organizations in eight counties. These local branches are formed by a few dozen party members. Their work is coordinated by a central office located in Székelyudvarhely.
Just as the other organizations, Jobbik's collaborations are defined by personal connections and friendships. As far as we know, they have a good relationship with 64 Counties Youth Movement from Transylvania. On the other hand, EMI has close ties with the national leaders of Jobbik, they don't cooperate with the local branches of Jobbik. Jobbik's youth organization has good relations with Transylvanian Hungarian People's Party's (EMNP) youth organization, Minta.
Despite all this, sociologists believe Jobbik is far from being able to integrate different subcultures, like it does in Hungary. Based on its current activity, it is unlikely that it will become a powerful movement in Transylvania.
The leader of another radical organization believes that the greatest problem faced by Jobbik in Transylvania is the lack of activists. There is competition between different organizations for the most talented people, each trying to snatch them from the other. Currently the only way to build a good team is to 'headhunt' from other organizations. But Jobbik has no Transylvania-specific message that could make it an interesting option for the more talented activists. Jobbik's organizational capacity in Transylvania is very low, our source said.
Béla Erdély, the president of Jobbik's Kolozs county local organization says that the main task of their branch is to collect information about Hungarian people's problems and send them towards Jobbik's headquarters in Budapest. The information help Jobbik assess the Transylvanian situation more accurately.
Jobbik doesn't have a legal entity in Romania, but its branch organizations work after the same rules as any Hungarian Jobbik branch. Their Transylvanian members is little over 300. These branches receive no financing from Jobbik, but their leaders can access a certain 'organizational budget'. Béla Erdély says they don't need much money anyway: their usual activities, like memorials and anniversaries are low budget events. However, if they organize something bigger, they would apply for financing.
The most notorious radical organization from Transylvania, the Szekler Guard either broke up, or will soon be disbanded. Its leader, Béla Mikola has been banned from entering the country. Their best known activist, Barna Csibi moved to Ukraine, and we have information that another member is working abroad.
The Szekler Guard, and especially Barna Csibi made quite a stir several times. For example, they painted the Star of David in front of the entrance of a supermarket from Csíkszereda. Barna Csibi became known nationally after he 'tried' and summarily 'executed' a straw man symbolizing Avram Iancu, the Romanian 1848 hero.
Barna Csibi is either a complete fool, or he is an agent, whose mission is to embarrass everybody – said one of our sources. Other said that he is an uncompromising, unmanageable man, who was active in every nationalist organization at some point, but who is not welcome by any of them because of his shady deals.
Barna Csibi has a different version: he quit EMI because he had to work too much. He left 64 Counties Youth Movement due to ideological debates. Barna Csibi believes szeklers should not ask for autonomy. Instead, they should claim to be a nation, because this is the only way to have their own country.
Finally, his Szekler Guard was accepted by a local branch of the Hungarian Guard. They failed to register a legal entity in Romania, and the straw man-episode broke Barna Csibi's career as an excise officer. Since then, he relied on his mall company selling radical nationalist souvenirs and memorabilia, but the frequent controls made his life difficult.
According to Csibi, the Szekler Guard was a 'no budget' organization, they never received financing from sponsors.
Original articles by Zoltán Sipos. Read them in Hungarian here, here and here.