Slovenian investigative journalist Blaz Zgaga on the Patria case
It was five years ago that the Finnish public service television and a small Slovenian website published a documentary and an article on the involvement of Janez Jansa (PM between 2004-2008, and 2012- 2013, minister of defense during the Balkan wars) and others in a several million euros worth corrupt arms deal and bribery between Patria, a Finnish manufacturer and the Slovenian defence ministry. In June 2013 Jansa was sentenced to two years in prison, after being forced to step down as Prime Minister earlier this year.

Jansa will appeal, his supporters are talking about a political conspiracy, yet three countries' (Austria, Finland and Slovenia) prosecutors have found a series of evidences in the case. The two journalists who spent years on investigating the Patria case now feel justified, especially because at the time the Slovenian media, except for one smaller, off mainstream site refused to publish the story. In an earlier  interview to Atlatszo.hu Blaz Zgaga, the Slovenian journalist uncovering this case (together with Magnus Berglund in Finland) talked  about a trilogy he wrote earlier jointly with Matej Surcz on the corrupt schemes behind the Balkan wars. This time Zgaga spoke about the details of investigating this recent case which is actually related to their war trilogy.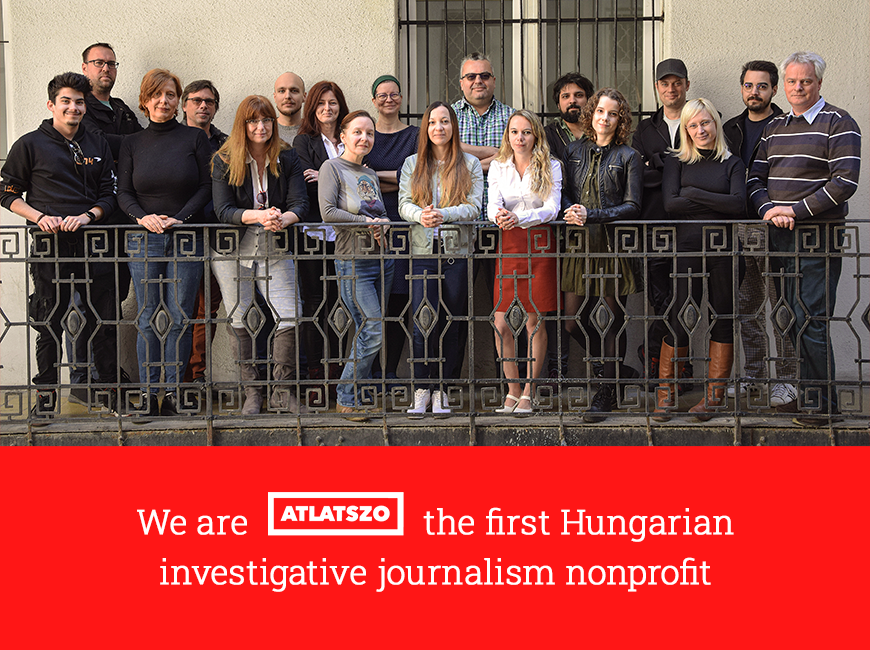 How did you start investigating this story?
A Finnish journalist Magnus Berglund started investigating the Patria case in 2007: he examined the company's corrupt practices in Egypt. He contacted me in May 2008 when we established crossborder collaboration, and exchange of information. We first met in August, and in September 2008 we published our stories simultaneously, in the same hour. His documentary was broadcasted by the Finnish public television and mine was published by a small, now defunct alternative website in Slovenia. None of the major Slovenian media dared to publish the story. Even two most critical newspapers towards the government refused to publish it.
Why were they so unwilling to print your article?
Basically, I think they were afraid… This just shows the low level of professionalism in the Slovene media. I met the editor of one of the newpapers, we talked and I told him that I have names, sums of kickbacks and that it is about millions of euros. Then they never got back to me. There was another magazine that was going to publish it, but in the last moment they changed the title of my article from "Patria bribed Janez Janša" to "Astonishing revelation of the Finnish television". Additionally, they deleted all my findings about the names and personal connections of Slovene men who had been involved in the case, actually all from the ministry of Defence, so I told the paper not to publish moderated and censored article.
What happened after your article and the Finnish documentary was shown?

Three weeks later we had parliamentary elections and Jansa's SDS party lost. Of course they were talking of a political conspiracy, blaming our investigation for their bad results at the elections. Soon afterwards, the head of the police was removed, what has been a significant event.
Previously, in February 2007 Austrian Interpol Bureau sent an urgent cable about money laundering related to the Patria case, to five countries (Lichtenstein, Canada, Slovenia, Thailand and Finland). Interestingly, Slovenian police "lost" this urgent cable, so it took them more than 15 months to reply to their Austrian partners. Because of this delay in Slovene part of investigation, all information about communications (emails, traffic data of phone calls) beetween Slovene suspects in Slovene telecommunication network were deleted as operators need to store them for two years only. This was a real setback and shame because the police investigation revealed later that most of the communication between Jansa's men and Patria happened in Summer 2005. And this important traffic data were lost due to this delay and they can never be retrieved.
So Slovene investigation has been delayed until May 2008, when the Finnish police started to do house searches related to the case and when this criminal investigation became public. In Slovenia house searches did not start until March 2009. Indictment was filed in 2010, and the first court decision in Slovenia was made in June this year. And this case is not finished yet because the people who were sentenced will appeal to the higher court.
How was this story connected to the trilogy you wrote earlier together with Matej Šurc on the political and corporate corruption and secret deals behind the Balkan wars?
Jansa was Minister of Defence between 1990 and 1994, at the time when Slovenia massively violated the UN arms embargo by selling more than 1000 tons of arms and ammunition to Croatia and to Bosnia and Herczegovina. The Slovenian Defence Ministry received dozens of millions of German marks and US dollars in cash. All this money disappeared. Jansa is politically responsible for these events.
In our books there are many documents signed by officials of defence ministry, even dozens of export licences signed by Jansa personally. Many evidences about payments to bank accounts in Austria, Switzerland and also in Hungary are published in our trilogy.
Besides Jansa there was Jože Zagožen who is now seriously ill so he is not included in the trial. He was chief of logistics at Ministry of Defence at the time. The other person who concluded the arms deal with Patria is Ivan Črnkovič, he was assistant to Jože Zagožen in Ministry of Defense. And Anton Krkovič, who was also convicted together with Jansa, was the chief of special forces between 1990 to 1994, he was also involved in many arms smuggling deals and other criminal activities investigated by the Slovene criminal police and which ended with violent arrest of civilian in 1994. Illegal arrest of civilian person made by military police and special forces caused that Jansa lost his position as Minister of Defence in 1994. And there is businessman Walter Wolf, citizen of four countries, now a fugitive wanted by Interpol, who was also involved in arms smuggling in 1992 as a middleman.
How were the bribes passed on?
There were two channels of bribes. The first one is connected to Patria company. Finnish arms contractor planned 12.1 million euros for bribes, but the receivers requested 30 % of this sum as prepayment one month after signing the contract. They got caught by the anti-money-laundering office in Austria.
The contract between Slovene Ministry of Defence and local representative of Patria was signed on 19 December 2006 and 3.6 million euros were transferred from Patria as prepayment on 6th February 2007. Austrian middleman Hans Wolfgang Riedl received this money and immediately attempted to forward 2.3 million euros to other middleman Walter Wolf. But they were prevented due to careful and professional bank official who informed anti-money laundering office. Austrian prosecutors found that despite this event Reidl managed to took 900 000 euros in cash to Slovenia on 15th February 2007 by car.
Jansa was removed from his office as Prime Minister in February 2012, after he failed to explain to the Slovenian anti-corruption commission the origin of more than 200 000 euros in his personal belongings. According to this commission Jansa purchased a personal car, a Volvo in March 2007 and paid for it with 30 000 euros in cash. Interestingly, this purchase happened just few weeks after the Austrian middleman brought the above mentioned 900 000 euros in cash to Slovenia in Spring 2007. Of course, it may be possible that these events are not related, but according to international anti-money laundering rules it is not allowed to pay in cash for purchases above 10 000 euros.
What was the reaction of the Slovenian society to the court decision?
After Jansa's conviction was made public, a group of his supporters protested outside the court building. Jansa said he will use all legal and political means to clear himself. The latter is worrying because it suggests that he may turn to political activities and pressure to undermine the judiciary system.
Even today many people fear his power. Some claim the whole case is a political plot against him. He sued my Finnish colleague for 1,5 milion euros for damages, Magnus is also criminally prosecuted for defamation of Jansa by Slovene prosecutors. Jansa is trying to compare himself to Julija Timosenko, as a victim of communist led judiciary. But he is in reality an arms dealer and war profiter of Yugoslavian wars and a main suspect for bribery in the Patria case for Austrian, Finnish and Slovene prosecutors.
Who initiated the corrupt deal ?
According to evidence found in police investigation it was the Slovenian side. Patria had a local company in Slovenia before. Its name is AC Intercar. But after pressures from Janša's men Patria canceled the cooperation with this company, owned by European Aerospace and Defence Systems (EADS) who is also owner of the Finnish Patria, and signed a contract with little known Rotis company, owned by Ivan Črnkovič. In this way they created the second channel of bribes, which has been independent of Patria.
Do you know what happened in Finland with the case?
The main trial is scheduled to take place in August 2013. Most of the top management of Patria face trial for aggravated bribery and industrial espionage. Also in Austria, the middleman, Hans Wolfgang Riedl was sentenced to three years in prison in April 2013. In Slovenia three people have been convicted to prison sentences so far, including the former Prime Minister.
Gabriella Horn
Photo: © Sanje Publishing